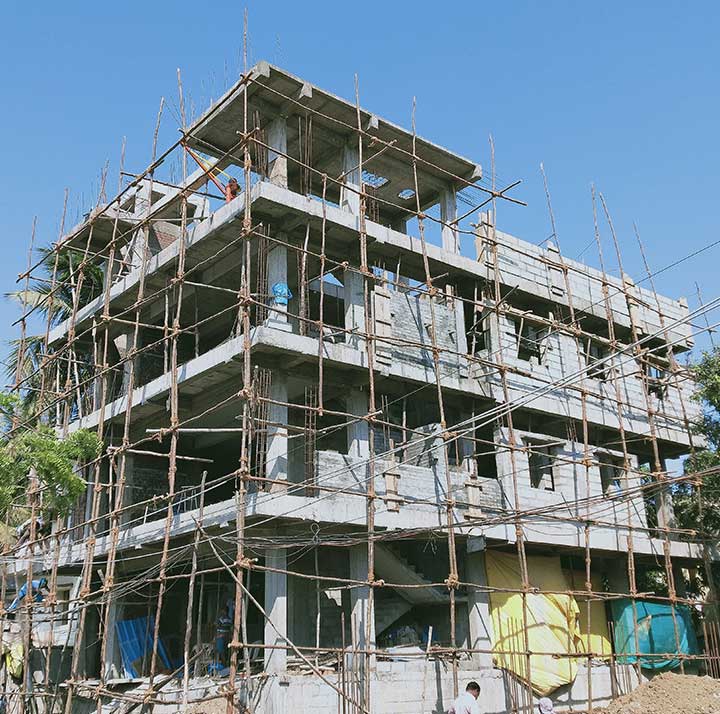 Best Civil Construction Company In Chennai For Stable Structures
Our professional team at Sathvik civil and building constructors in Chennai provides A to Z construction services. We relieve you of most of the complex processes involved in the project. The team is very competent with assisting you right from the budget planning to the handover of the project.
We have the best individual home construction builders in Chennai who have gained so much reputation and expertise by working on distinctive projects such as Individual Residences, Farm Houses, Commercial Buildings like showrooms, hostels, and schools; apartments, and joint ventures.
So far, we have finished 5 residential projects, 2 school projects, and 2 commercial projects.
Our Construction Services Include
What do we do?
As the Best House Construction Companies In Chennai we can guarantee you that you will get peace of mind when we take care of your project. Our team handles A to Z of the construction process. Hence, you can be relaxed once give us the project.
1 - Budgeting
Once we onboard a project, the first step is budgeting. We engage in detailed conversations with our clients and discuss their priorities. It helps to calibrate our approach concerning the budget. Our team looks to provide cost-effective solutions while also conforming to industry standards. This forecast in construction has helped us earn the name of the best individual home construction builders in Chennai.
2 - Government Plan Approvals
We know how cumbersome plan approvals get. Therefore, Our experts at Sathvik, one of the best house construction companies in Chennai will help to speed up the process. You do not need to wait long hours at our office for your project's approval.
3 - Building Plans
Sathvik Engineers consult structural engineers and Vaasthu specialists while designing the plan. It enables us to incorporate critical safety measures in-depth of stabilizing the structure. Also, we draft buildings that conform to Vaastu Shastra.
4 - Foundation Selection Methods
Choosing the proper foundation will ensure that your structure stands against time and other external factors. Typically, every civil construction company in Chennai provides the foundation's quality depending on the soil and load factors. So, the foundation's performance entirely depends on the structural loads and the supporting ground. However, these conditions vary, and the foundation selection becomes crucial. At Sathvik, we conduct soil tests followed by foundation selection methods to determine its stability and quality. As several foundation choices are available, economic factors can influence the selection process. Our analysis for the proper foundation allows us to offer our customers the appropriate one at a reasonable rate without compromising its strength, durability, and safety.
5 - Structural Drawing
The structural drawing includes complete planning, designing, and analysis to ensure the structure's stability and safety. At Sathvik, the best Individual Home Construction Builders In Chennai, we prepare the structural design ahead of creativity, as we believe the visual appeal is more important than structural stability. Our structural design provides information like floors, foundations, beams, walls, roof types, and material quality to meet safety requirements and other construction standards. Without a solid structural design, the entire project may fail and significantly impact safety.
6 - Material And Brand Recommendation
Building materials such as reinforced bars, cement, brick, sand, aggregates, and clay play a vital role in the construction. It can also be said that material quality determines the stability and longevity of your building which should never be ignored or compromised at any cost. We at Sathvik civil construction company in Chennai are very particular in using the building materials that are of only high-quality manufactured or produced by the most reputed brands. We also recommend only standard materials with suitable grades, and sizes to our clients so that they can be sure about the structure's integrity.